Quick! Name a female ruler of Egypt on the spot, and I bet you would immediately think of the Queen of the Nile, Cleopatra. So many myths have built up surrounding Cleopatra, and it is hard to separate the truth from the fantasy.
One thing that is certainly true and aligns with history was Cleopatra's extravagant lifestyle and parties. One particular party even apparently resulted in Cleopatra drinking a pearl to win a bet.
Did Cleopatra actually drink a pearl, or is this just another dramatic tale, another layer of mystique and mythos associated with the legendary last Queen of Egypt?
Cleopatra and the Ptolemaic Kingdom of Egypt
The Ptolemaic dynasty was an ancient Greek state based in Egypt during the Hellenistic period. Alexander the Great, King of Macedonia, invaded Egypt in 332 BC, just another empire for the great conqueror to defeat.
After the death of Alexander the Great in Babylon in 323 BC, his close friend Ptolemy was made a satrap. A satrap was a governor of provinces in the ancient Achaemenid Empire, also known as the First Persian Empire and Median Empires. It was Ptolemy who turned his job as a governor into a de-facto ruler, and who sired a dynasty that would exist for almost 300 years.  
Cleopatra VII, famous enough to be often referred to as only Cleopatra, was the last ruler of this Ptolemaic Kingdom of Egypt. Most picture her as a youthful beauty, but in truth Cleopatra ruled ancient Egypt for nearly three decades.
She was the only Ptolemaic ruler who learned the Egyptian language. There are only second-hand accounts from Greco-Roman scholars about the exact details and early history of her life, but what is known is that in 51 BC, Cleopatra ascended to the Egyptian throne.
The world today knows Cleopatra as a seductress and a beauty of the ancient world, and certainly depictions of Cleopatra have been altered and influenced by Hollywood. The real Cleopatra was however somewhat different: for a start she was not an Egyptian woman, but a Greek, and her native language was the Koine Greek dialect.
Scientists and historians can't even say for sure that she was a beauty, and many attempts have been made to use portraits on coins to establish a rough idea of what she may have looked like. It is unknown if Cleopatra was as stunningly beautiful as actress Elizabeth Taylor in the classic 1963 film Cleopatra, but ancient authors do often mention that Cleopatra was a beautiful woman.
What is often ignored because it is less dramatic and sexy is the fact that Cleopatra was brilliant. She spoke multiple languages fluently, knew how to suppress an insurrection, and studied math, debate, astronomy, and philosophy. There had been female rulers in Egypt in the past. Still, it was her wit and strategic political moves (such as gaining the support of Julius Caesar by becoming his lover) that made Cleopatra stand out as one of the most memorable rulers of Egypt.
The Luxurious Cleopatra
As the Queen of Egypt, Cleopatra was incredibly wealthy and could afford luxuries that the rest of the Egyptian people could not. Cleopatra was said to bathe regularly in goat or donkey milk with honey.
The ancient peoples of the past, from kings to commoners, are known to have taken very few baths, but this was obviously not the case for this queen. Cleopatra was also said to have face masks made of gold applied before she went to bed every night to maintain her complexion.
Cleopatra was a fan of the scent of roses and was said to douse her wooden ships with rose water. She was said to wear a very expensive ancient perfume that scientists have been trying to replicate for hundreds of years.

Was this vanity, or political maneuvering? Cleopatra saw herself as the Egyptian goddess Isis since she was a child and wore elaborate outfits. She thought dressing in the finest or rarest materials would also make the public see her as a goddess.
Cleopatra, like many women today, also wore makeup, but for ancient Egypt this was not so unusual. Egyptians often wore makeup because they believed it made the gods look favorably on them, and offer protection.
Makeup on the eyes was used to prevent bacteria or infections, and Cleopatra's winged eye makeup is seen in every depiction of her.  Cleopatra liked to arrive somewhere with incredibly elaborate entrances as often as possible. Cleopatra is also known for her luxury dinner parties, one of which was said to be the most expensive meal in history.
Never Bet Against Cleopatra
The story of this opulent dinner was written by Pliny the Elder in the sixth book of his anthology Natural History. Book six was published in 77 AD, almost a century after Cleopatra died by suicide.
Despite being written long after there is a possibility that the story is true, but conclusive proof that it occurred will likely never be found. Pliny's tale of Cleopatra's dinner with Mark Antony and a single pearl that has lasted through the centuries.
Cleopatra bet Mark Antony that she could make a dinner that cost 10,000,000 sesterces ($30 million today), putting Mark Antony's attempts at extravagance to shame. Antony didn't think Cleopatra could pull off such an expensive meal, so he accepted the challenge.
The next day Antony joined Cleopatra at the table that was the definition of opulence. Upon looking at the display of food and drink that would be served, Antony began to laugh. He told her yes, the dinner was extravagant and possibly her most over-the-top dinner to date, but the spread was not one that cost 10 million sesterces. Cleopatra, unconcerned, ordered her servants to serve the meal.
After the first course, a servant placed a single glass of vinegar before the queen, confusing Antony and everyone else in the room. Cleopatra plucked one of her massive pearl earrings from her ear (they were said to be the two largest pearls in the world at the time) and dropped it into the glass of vinegar.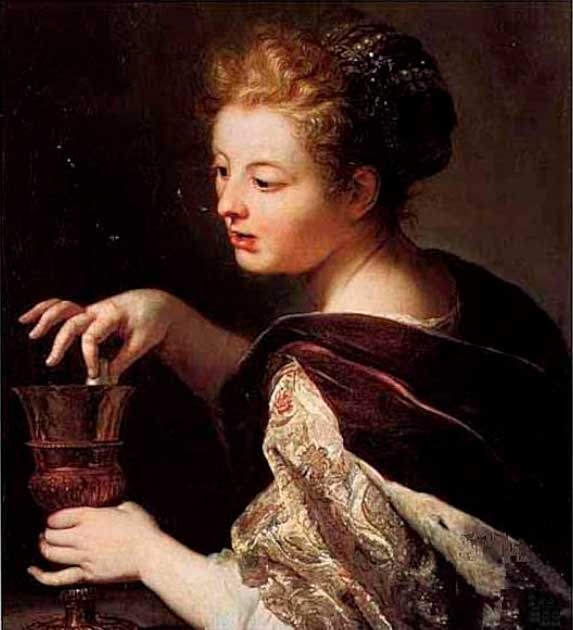 The room sat in silence, waiting to see what would happen next. The pearl earring started to dissolve, and when the entire pearl was gone, Cleopatra drank the vinegar. Everyone was stunned.
She had just swallowed one of the largest pearls in the world and was about to drop her other earring into another glass of vinegar until a guest, Lucius Plancus, who was the judge for this wager, stopped her. He declared Cleopatra the winner, and the dinner ended. Cleopatra had, in the end, served a dinner that would cost 10 million sesterces, but in the most unexpected way.
Can Pearls Dissolve in Vinegar?
Theoretically, pearls can dissolve in vinegar because pearls consist of calcium carbonate, and vinegar is simply acetic acid mixed with water. When the two are combined, it causes a chemical reaction when that dissolves the calcium carbonate (the pearl).
Yes, the science checks out and a pearl can dissolve in vinegar, but not quite as it appears in the story. It can take days or even months to break down. A pearl weighing 1 gram (0.03 ounces) can dissolve in a glass of 5% vinegar in about 24 to 36 hours. However, the pearl in the story was "the largest pearl in the world" and would take even longer.
It is therefore impossible for Cleopatra to dissolve a pearl in seconds. Clearly, this is an embellished feature of the story.
There are two other theories about how the pearl could have dissolved in vinegar like a tab of Alka-Seltzer when dropped in water. The first method is to drop the pearl into boiling vinegar. In the story, it isn't mentioned if the vinegar was served heated up or at room temperature.
The second method is softening the pearl before adding it to the vinegar. To dissolve the pearl by softening it, Cleopatra would have used a mortar and pestle to grind the pearl into a powder and sprinkle it into the glass of vinegar. As a powder, the pearl would dissolve immediately. Pliny doesn't specifically mention Cleopatra crushing and grinding one of the largest pearls in the world just to win a bet, but it is possible that this is what is meant by the pearl dissolving in the solution.
Did People Consume Pearls as Medicine?
Drinking pearls was a way to prevent acid reflux and indigestion following a heavy meal. We know it was a common practice through the middle ages and into the early modern period of history. It is possible that people drank pearls as medicine in the Roman Empire, but it is unknown if people drank pearls during this specific time in history.

We cannot say without reasonable doubt that Pliny wrote an accurate account of this dinner. Could some elements be true? Yes, it is possible that Cleopatra and Mark Antony challenged or competed against each other to create the most expensive and beautiful dinners.
Pearls eventually dissolve in vinegar but not immediately unless they are crushed. Regardless of its accuracy and truth, the story of Cleopatra drinking a pearl is a good tale and only adds another example of extravagance in the mythos of Cleopatra.
Top Image: Did Cleopatra really drink one of her pearl earrings to win a bet? Source: Вероника Литковская / Adobe Stock.
By Lauren Dillon